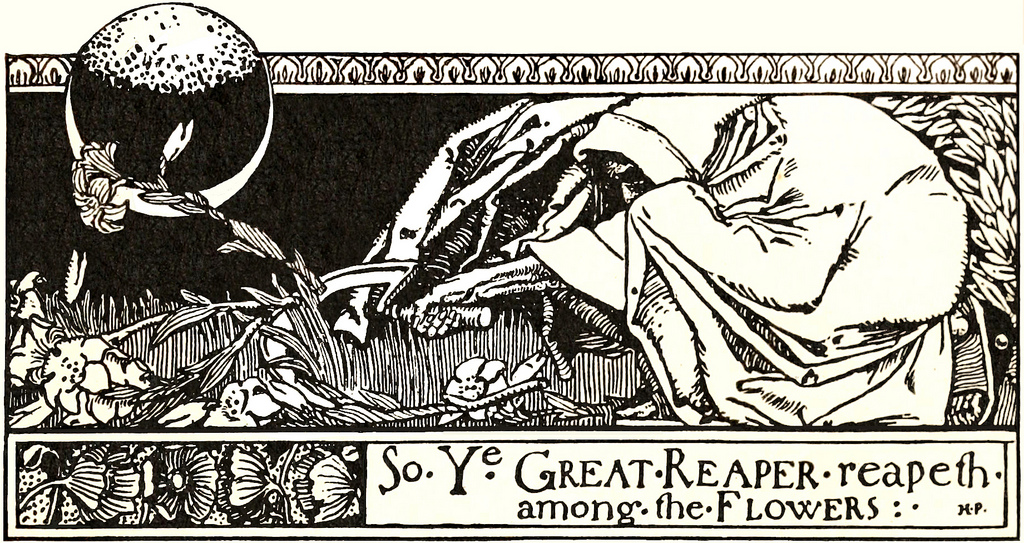 (Woodcut by Howard Pyle from The Merry Adventures of Robin Hood, one of my favorites.)
By Jeremy Griffith
The American Millennium
Lost a friend this week and I thought I might mention it in passing. He was more of a work acquaintance than a friend, but I appreciated his quirky sense of humor and his smile.
Bill Burke wasn't a great man. He was short and chubby and sweated a lot. His health has been failing these past few years, and he was off work a lot. But he always came back, insisted upon coming back despite his health. He never asked for anything from anyone, and he lived his life his way, without excuse. My parents have their gravestone all set up already, and on it they have a theme that I think can be used to describe the kind of man Bill was. "We did not do great things," it says. "Just small things with great love." Bill never did anything half way. He did it 110 percent and he did it his own way. There is a sort of liberating freedom in that that few of us enjoy. I admired that in him.
He was not much for political correctness, he said what he meant, often out loud and far too often. Likely he bruised the feelings of some, but for me I always took his meaning as it was intended, with out harm or malice. If only the world had more honest men like Bill. Sure he was crass and unpolished, but who cares. He made me laugh and I appreciated that.
If Bill is in heaven and I think he is, I believe he will be in the smoking room where the trouble makers hang out. I think The Lord will be there with him and his friends, enjoying a joke and a smoke, He likes a good laugh. When I get there, I imagine there will be a short, chubby man, mustached and well dressed in a pinstripe suit and black fedora. He'll be leaning up against the pearly gates, stogie in hand.
"You took your sweet time getting here," he'll say. "I thought you'd never get here."
"Bill!" I will say, "You look like a leprechaun dressed as a gangster! How do you get away with wearing that up here!"
Bill like me is a veteran, but from a different era. He fought in Vietnam at a time when it was more popular and fun to spit on soldiers in airpots and burning draft cards. These individuals are the ones I always find at airports when I come home who meet me with good humor, a handshake and a cell phone, insisting I call home and enjoy a drink on him. I have special fondness for these people, who fought the not-so-cold portion of the cold war, and it's one of the reasons I bonded with Bill, unpolished as he was. To him I dedicate this column and this poem, borrowed from the famous poet, Henry Wadsworth Longfellow, who wrote:
There is a Reaper whose name is Death,
And, with his sickle keen,
He reaps the bearded grain at a breath,
And the flowers that grow between.
"Shall I have nought that is fair?" saith he;
"Have nought but the bearded grain?
Though the breath of these flowers is sweet to me,
I will give them all back again."
He gazed at the flowers with tearful eyes,
He kissed their drooping leaves;
It was for the Lord of Paradise
He bound them in his sheaves.
"My Lord has need of these flowerets gay,"
The Reaper said, and smiled;
"Dear tokens of the earth are they,
Where he was once a child.
"They shall all bloom in fields of light,
Transplanted by my care,
And saints, upon their garments white,
These sacred blossoms wear."
And the mother gave, in tears and pain,
The flowers she most did love;
She knew she should find them all again
In the fields of light above.
O, not in cruelty, not in wrath,
The Reaper came that day;
'Twas an angel visited the green earth,
And took the flowers away.
Goodbye Bill, father, husband, grandpa, friend. We'll see you in a while, but not too soon.
jlg